Cooney Cemetery

(Contains Cooney's Tomb)
COONEY CANYON
MINERAL CREEK
(Photo courtesy Sharon Linneer)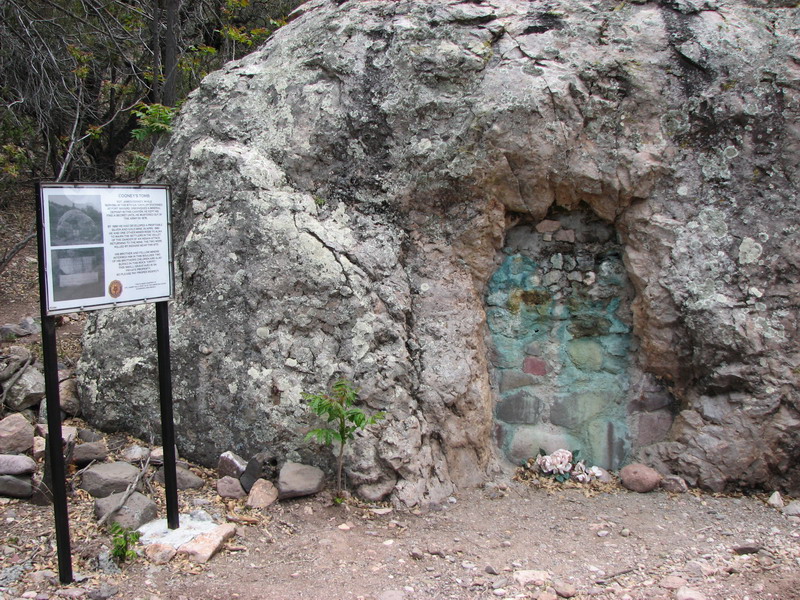 (Photo courtesy Cheryl Harris)
Copy of email from Cheryl Harris, 2007/05/17
"This very small graveyard is found in an isolated area east of the town of Alma, NM. Located in the southern part of the county, in the Mogollon Mountains, it is named for James C. Cooney, sergeant of the 8th U.S. Cavalry, who came to Fort Bayard in 1870. While on duty as a scout, he discovered silver-bearing rock, but said nothing about it. After his discharge, he came to the area in 1876 with two companions to work the claim. He was killed by Victorio's Apaches. His brother, Captain Mike Cooney, and friends carved a sepulcher out of a rock in the canyon where he was killed and buried him there, sealing the tomb with the silver-bearing ore taken from the mine he discovered."
The GPS is 33 deg 24.767'N, 108 deg 50.248'W.
It is approximately 7 miles east of Alma on County Road 7."

Location: About 15 miles northeast of Glenwood, NM off US 180


J. C. Cooney
Killed by Victorio's Apaches
April 29, 1880
Aged 40 years


Jack Chick Died 29 Apr 1880
Mr. Buhlman Died 30 Apr 1880


All above were horribly mutilated & killed by Victorio, the Apache Chief,
and his warriors. The men were riding to warn settlers of an impending
Indian Attack. Their bodies were later found & buried in a tomb carved
out of a large boulder.


Also buried there:
John D. Cooney Born Aug 20th, 1880 Died Dec 15, 1891
Hugh C. Cooney Born Oct 3, 1898 Died Jan. 7, 1900


Graves behind Cooney's Tomb






1. Unmarked
2. Charley Clark 2 Oct 1868 - 28 Aug 1910
3. Unmarked 1905
4. Elza May Clark, Daughter of Charley Clark , 29 Jun 1896 - 5 Sep
5. Unmarked


Steve Conroy is going to keep us posted regarding the reconstruction of the vandalized plaque at Cooney's Tomb.
Thanks, Steve!